July 10th, 2019
In the fabrication and erection of structural steel, you pay attention to the connections.
In the steel fab shop, most of the labor is in the connections: the base plates, shear tabs, and especially the moment connections which have lots of bolt holes and complete joint penetration welds.  On the job site, the Erector spends most of his time on the steel-to-steel or steel-to-concrete connections. They rack the steel plumb and level, then tightening the bolts of the connection to proper torque to keep it that way.
But there cannot be any problems in those connections.
If those connections are not fabricated or installed correctly according to the design of the Structural Engineer and the shop drawings from the Steel Detailer,  the building structure will be out of plumb, could fail site inspection, require costly rework, or have an unsafe structural frame of the building.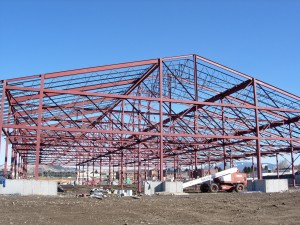 From outside the job fence looking at the rising structure, the beams and columns are what you see, it makes the skeletal frame of the building, but how those members are connected is what's most important.
Life is like that, the people around you make up your world, they are the structural frame of your life.  The most important part, and what takes the most time, is how you connect to them.  Is your connection to them solid and correct according to the Engineer (God)? Are you giving adequate time to make sure your connection to them is the best it can be?
Make a list of the 12 most important people who make up the structure of your world. Your spouse, children, parents, friends, co-workers, neighbor, teacher or pastor, etc.  Now, next to each name, write down how you rate the structural integrity of your connection with them:  Pass  or  Needs Work  or  Fail.
Those that pass: Keep working on the relationship, be intentional at keeping the connection you have with them strong and good.
Those that need work: Figure out what the problem is, and fix it. Usually the problem is in your workmanship…something you have done or said, or didn't do, so only you can rework things.
Those that fail: Contact them and say you want to work on your connection with them. That's a lot easier than you think. So buck up, you have to do it to make the structure of your life strong.
Most problems with connections with other people involve one or more things mentioned in Ephesians 4:31-32, which are bitterness, wrath, anger, clamor (yelling), and evil speaking (gossip, lying, degrading words), then, it says how to rework that connection so it passes inspection: put them away from you with all malice, and replace them with being kind, tenderhearted, and forgiving.
Can you do that? Can you evaluate your connections with the 12 most important people in your life, and work on each of them?  As with most building projects, there is a set schedule and a deadline for completion.  Can you make all 12 of your connections pass before the end of next month?
Here are a few other Bible passages to help your connection with people in your life:
John 13:34-35 Jesus said "A new commandment I give to you, that you love one another: just as I have loved you, you also are to love one another.  By this all people will know that you are my disciples, if you have love for one another."
Romans 12:10 Love one another with brotherly affection. Outdo one another in showing honor.
Galatians 6:2 Bear one another's burdens, and so fulfill the law of Christ.
Galatians 6:10 So then, as we have opportunity, let us do good to everyone, and especially to those who are of the household of faith.
Hebrews 10:24–25 And let us consider how to stir up one another to love and good works, not neglecting to meet together, as is the habit of some, but encouraging one another, and all the more as you see the Day drawing near.
1 Peter 4:9 Show hospitality to one another without grumbling.
Re-posted by permission of the author. This article originally posted at Blue Jeans Christian.
Man welding photo from Pixaby
Steel building courtesy of Montana Steel.